About Us
Under the initiative of the president of Kyoto University, the Center for Women Researchers was established in September, 2006, to provide an environment in which women researchers can fully exercise their abilities and to promote the development of excellent young researchers. The Center has promoted various activities through four programs, to develop and improve the research/education environment for women researchers so that they can continue their research work and cultivate successors. These programs are not only for women researchers, but also for faculty members and students.
Together with the Gender Equality Promotion Office and in cooperation with the local community, the Center has worked toward the realization of a gender-equal society. In 2014, the Center for Women Researchers and the Gender Equality Promotion office were merged into the Gender Equality Promotion Center to develop the activities.
Four Working Group of the Center
1. Lectures Related to Gender Equality
In cooperation with faculty members in related fields, the Center offers common course called "Gender Studies" for the second semester, and a small seminar called "Gender and society" for the first semester.
2. Public Relations
Providing Information
The Center provides information to support students and faculty /staff at Kyoto University, highlighting gender-mainstreaming, diversity, work-life balance, career development and networking. It also offers lectures, seminars and other events focusing on international academic and scientific careers.
Symposium Series: "Women and the World Forum"
The Women and the World Forum is jointly organized by the Gender Equality Promotion Center and the Kyoto University Female Faculty Association. The forum provides participants with an opportunity to discuss various topics directly with the university's President. Topics covered include issues such as attaining a good work-life balance for researchers and expanding students' career path options.
Round Table Forum for High School Students : "Talking with Researchers in Kyoto University"
Through exchanges with faculty members and students at Kyoto University, this forum gives high school students a chance to learn about the work researchers do. To familiarize the young participants with college-level studies and research, post-graduation orientation and careers as researchers and scientists on the theme "Getting to Know Kyoto University, Talking with Researchers", teaching faculty members serve as lecturers and instructors.
3. Support for Child Care and Nursing Care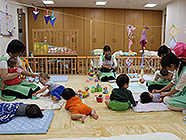 Infant Care Room for Infants Awaiting Public Day Care
The Center offers the Day Care Room for Infants on Waiting Lists for Public Nursery School to help female researchers and students whose children are on waiting lists for admission to nursery schools to pursue their research and educational goals while raising their children. Those eligible to use the Day Care Room shall be, in principle, female students and researchers of Kyoto University. The management is commissioned by a private corporation, and the university covers a portion of the cost for the care.
Child Pick-up & Care Service
The Center sends a care provider to pick up children at regular day care or after-school care, when their parents are unable to do so, and temporarily provides care for the at the Center's facility.
4. Support for Sick Child Care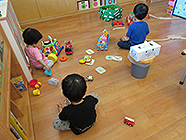 Nursery Room for Sick Children " KOMOMO" is a day care facility that provides care for sick or convalescent children when they cannot attend their regular day-care facility, kindergarten or elementary school. It is staffed by nurses and childcare workers, provides appropriate care for sick children in collaboration with Kyoto University Hospital. All the students and faculty/staff members at Kyoto University are eligible.
5. Support for Work-life Balance
Financial Support for Hiring Research/ Experiment Assistants
This system provides financial support for researchers to hire research/experiment assistants while they are away from work on maternity leave, for child-raising or family care and so have difficulty securing time for their research. Applications for this system are accepted twice per year (June and December).
6. Center Staff
Staff Member
 Hiroyuki KONISHI
 Chiemi OKADA
 Aki NAKAMA
 Miyuki YAMAMOTO